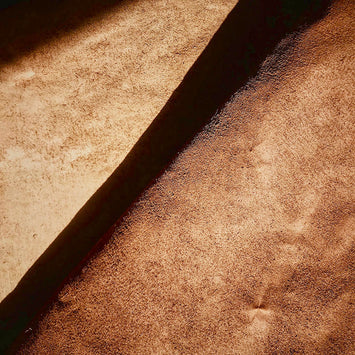 Tout savoir sur le Cuir végétal de IBELIV
A NATURAL LEATHER
Associé au raphia, le cuir sublime plusieurs modèles de notre collection.

Le tannage présente l'avantage de transformer les peaux animales en cuir imputrescible. Et si le tannage minéral, à base de sel de chrome, est le procédé le plus répandu dans le monde, nous préférons sans la moindre hésitation recourir au tannage végétal.

En effet, directement inspiré de la nature, le tannage végétal fut la première technique utilisée par l'Homme. Elle emploie des tanins végétaux issus des plantes. Et bien qu'elle nécessite beaucoup plus de patience, elle offre de nombreux atouts.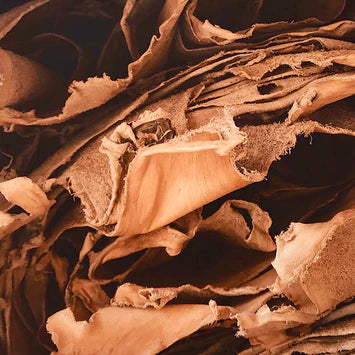 AN ECO-FRIENDLY MATERIAL
"While being part of our environmental approach, vegetable tanning gives a specific leather with particularities faithful to our values."
Tout d'abord, le tannage végétal garantit la sécurité en matière de santé des artisans mais aussi du consommateur.Ensuite, il enrichit le cuir. Ainsi le cuir est plus ferme et plus solide, il se distingue par une meilleure tenue et absorption de l'humidité. La teinture, concoctée à la main, donne des teintes plus profondes et plus nuancées avec un rendu assez hétérogène.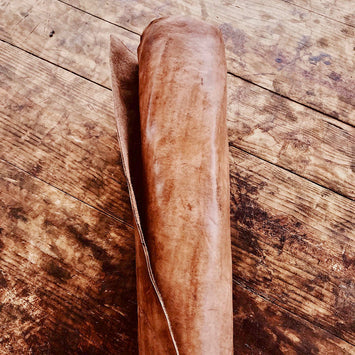 A UNIQUE FINISH
The dye reveals the small marks and defects that reflect the animal's life and give the skin its distinctive beauty. By oxidizing under the effect of light, the vegetable tannins embellish the leather and give it a nice patina.
AINSI, NOUS RENFORÇONS L'ESPRIT UNIQUE DE NOS CRÉATIONS TOUT EN LUI GARANTISSANT UN CARACTÈRE PLEINEMENT GREEN.