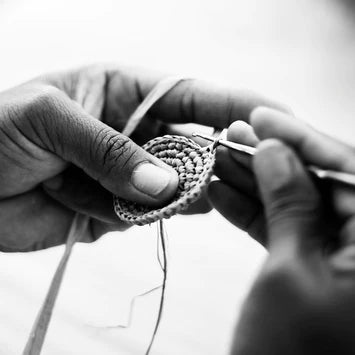 La technique du Crochet vue par IBELIV
AN ANCESTRAL KNOW-HOW
While the origin of crochet is uncertain, the first known crocheted works date back to the late Middle Ages. Its arrival in Madagascar coincides with that of the first missionaries. First taught in convents, it was then transmitted from generation to generation, creating unique know-how anchored in the DNA of the island.
"Our mission is to preserve this know-how and bring it to excellence while adding a contemporary touch."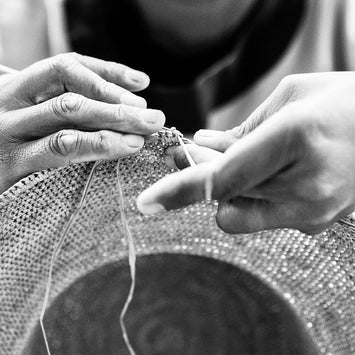 A UNIQUE TOOL
Le crochet est une grosse aiguille pourvue d'une encoche dans laquelle on faufile les fibres de raphia.Muni du fil de raphia et de son crochet, point après point, l'artisan voit opérer la magie d'une œuvre empreinte de son âme.En s'appuyant sur ce savoir-faire, IBELIV s'attache à perpétuer la transmission de cet art ancestral et à le valoriser.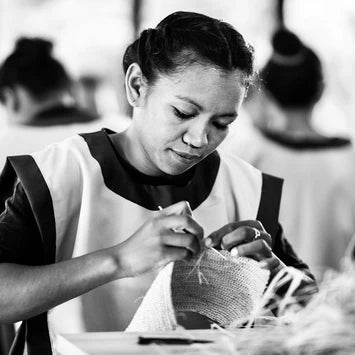 AN INFINITY OF EXPRESSIONS
Cet artisanat lui permet de développer son estime de soi, car s'il nécessite passion, patience et dextérité, il lui offre la gratification de réaliser un objet unique de ses propres mains.

De plus, c'est un artisanat qui s'apparente à de l'art, puisque le crochet se manie et donne une infinité d'expressions. IBELIV a choisi de sélectionner quelques techniques de points et de mailles pour l'adapter à ses créations et les maîtriser parfaitement.

La simplicité et la régularité des points magnifient le raphia et permettent également l'épanouissement de l'artisan.
CHACUNE DES CRÉATIONS IBELIV MENTIONNE LE NOM DE LA FEMME QUI L'A CROCHETÉE. UNE SIGNATURE QUI GARANTIT L'ORIGINALITÉ DE LA PIÈCE ET ASSURE UN LIEN SOCIAL ENTRE L'ARTISAN ET CELUI OU CELLE QUI LA PORTERA.